MODERN VEGAN TOTE - Horoscopes
Our most luxurious tote to date has received a stylish update. This tote bag is made from textured vegan leather with a metal snap closure. This spacious bag can fit your laptop, wallet, phone or anything you need to get through your day. There is a 6" interior pocket, perfect for the little things that can easily get lost in your handbag. Each tote has an exciting phrase that is specific to our brand, making this the perfect bag for all personalities.
 WHY VEGAN LEATHER FABRIC?:
It is a animal-friendly alternative to using real leather.
When done well it can provide the same rich, luxurious, tasteful aesthetic as real leather..
Has a luxurious quality with a more reasonable price.
QUESTIONS? We've got answers!
Q: Is the fabric durable?
A: Yes! Our Vegan leather totes are very durable, just wet a cloth and wipe it down to keep it nice as new.
Q: How does it keep from everything falling out?
A: There is a magnetic snap closure at the top center that does a great job keeping your belongings where the belong.
Q: How big is the bag?
A: It is the perfect size tote for a laptop of any size, a trip to the beach with towel, radio and sunscreen or your every day bag with a wallet, cosmetic pouch and all the other gazillion little things that find their way into your bag! 
Q: How much does the bag weigh?
A: The Modern Vegan Leather Tote has a quality feel and weight. Each bag weighs 1.5 lbs.
Q: If the tote has a plastic scent, will it go away?
A: We keep the Totes in the plastic to keep them nice, so it will be a day or two out of the plastic before the scent goes away and there should be a slight scent at most after that. Sorry for the inconvenience but we do not choose to open them prior to shipping to air them out.
Q: How big is the handle?
A: The handles measure is 8" wide x 6" high. Fitting chicly in the hand, carried elegantly at the elbow or for some people worn on the shoulder for a convenient on the go approach.
Any Additional questions we are hear to assist: Sales@LosAngelesTradingCo.com / 661-670-8083
FABRIC CONTENT: 
100% Vegan Leather
DIMENSIONS: Bag - 17" x 12.5" x 6.5" | Inside Pocket - 9" x 6"
DESIGNED: in Los Angeles, Ca - Enjoyed All Over The World
Customer Reviews
09/08/2020
Christen
United States
Great bag
This is my third bag from this company. Obviously I am very satisfied with this company to order more bags from them.
09/07/2020
MomXGaming
United States
Great Bag
I love this bag. The construction is amazing as it the weight of the empty bag. I was plesantly surprised to see that it is much more spacious that I originally thought. Looking at the pictures online I was assuming it to be a regular sized tote bag. I am giving 4-stars because of the handle. When you put it on your shoulder, the top of the bag is right in your armpit so it is or was not designed for the average person to carry on their shoulder. For that reason it may not become the work bag that I wanted it to be and may become an overnight bag.
09/05/2020
Denise M.
United States
I'm So Diva with this bag!
Looking at this bag online does it no justice at all! One of those rare moments when something is BETTER in person. Wow the amount of slayage that I do in this bag....girlfriend. I went on the page everyday til the gold one was back in stock, and yes a sista had to purchase. It also makes for a great background while I'm in my back to back Zoom meetings, everyone asks, can we get a close up of your bag. I'm like yeah I know.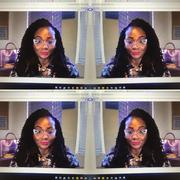 09/04/2020
Marissa G.
United States
One size fits all bag
I am in love with this bag. Most bags easily break when I stuff them lol so to see that it can not only hold my everyday items but can double as a diaper bag and work back. Absolutely recommend this for any mom who needs the convenience of a diaper bag but still wants to keep her style.
09/02/2020
Sha R.
United States